NEW The Winters Tale dvd BBC Shakespeare Collection Jeremy Kemp 1981 Film Movie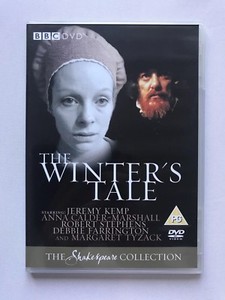 ---
Hello you are looking at THE WINTERS TALE on dvd (1981)
Region 2 UK
NEW but not sealed
Truly amazing comedy, drama and a must see for fans of William Shakespeare
100% Genuine.
A part of the BBC Shakespeare Collection.
VERY RARE
Slim Line dvd case
Staring: John Welsh, David Burke, Robert Stephens and many more.....
In 1978, the BBC set itself the task of filming all of William Shakespeare's plays for television. The resulting productions, renowned for their loyalty to the text, utilised the best theatrical and television directors and brought highly praised performances from leading contemporary actors
THE WINTER'S TALE [1981]
Leontes, King of Sicilia becomes convinced that his wife, Hermione, is guitly of adultery with his friend Polixenes, the King of Bohemia. He sends his wife to prison and tries to kill his friend - setting in motion a trin of tragic consequences. This stylised production of one of Shakespeare's most haunting and enigmatic late works revels in its intense conlicts. An excellent cast (including Jeremy Kemp as a magnificent Leontes) highlight the tragic intensity and comic grace of the play
Please check my other items I have all 37 titles available on DVD from the BBC Shakespeare collection
Postage: Will be sent out the same day as purchase via Royal Mail delivery
I will be able to offer you postage discounts on multiple purchases. Any postage charges after the first £3.98 will come with FREE postage.
Thanks for looking.